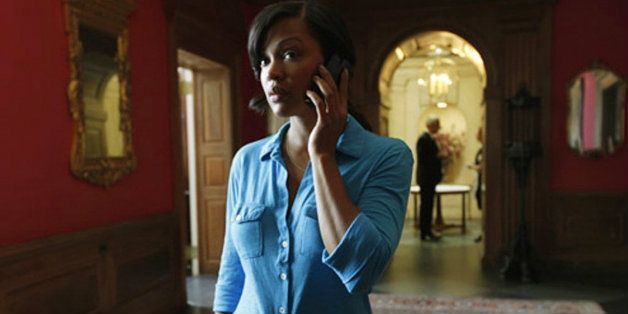 I watch television intentionally. I don't flip through channels or keep it on in the background. When I sit down to watch a show, I'm invested. That's, perhaps, why I only recently heard about NBC's new show
Deception
starring Meagan Good. As soon as I discovered the series, I sat and watched the pilot online.
Good's become a familiar face. I remember her as a striking teen in
Eve's Bayou
. I enjoyed her in
Think Like A Man
, and despite her reputation for roles that lack depth, I've rooted for her. It's not often that a young, black actress working for years gets a shot like this one.
I'll admit, I didn't expect Meagan Good to "cross-over." Unfortunately, far too many black actresses never get the chance to expand their craft beyond the few mainstream and indie films geared toward "us." It seems Kerry Washington's Olivia Pope has convinced white executives of new possibilities. That's a not-so-small victory.
But let's be clear,
Deception
is not
Scandal
. While Scandal uses lightning fast dialogue and action-filled plots to engage viewers,
Deception
builds slowly with Meagan Good as the anchor. Detective Joanna Locasto (Good), infiltrates a wealthy New York family to uncover the suspected murder of her former best friend. Laz Alonzo plays Moreno -- Joanna's former partner/ex-boyfriend who guides the police work. Together the two offer smart banter with convincing chemistry. By themselves, they're enough to make me return next week. The show offers bends rather than sharp twists.
Deception
is an old-fashioned suspense filled with lies, secrets, and murder. I watched the show with no expectations or background, and was pleasantly surprised.
They say a rising tide lifts all boats, and the breakout success of
Scandal
could mean the beginning of a new era for black talent. Of course, any assertions of a black bombshell TV revolution are premature.
Deception's
future remains unclear, but the series feels like a notable triumph for Black women actors. Opportunities for women who look like Washington and Good to play strong lead characters on network television happen far too infrequently. What's better than one strong smart black woman on television every week? Two. Deception airs Mondays on 10/9C. Give it a shot.
---
Kimberly Foster is the founder and editor of For Harriet.
Email
or
Tweet
her.