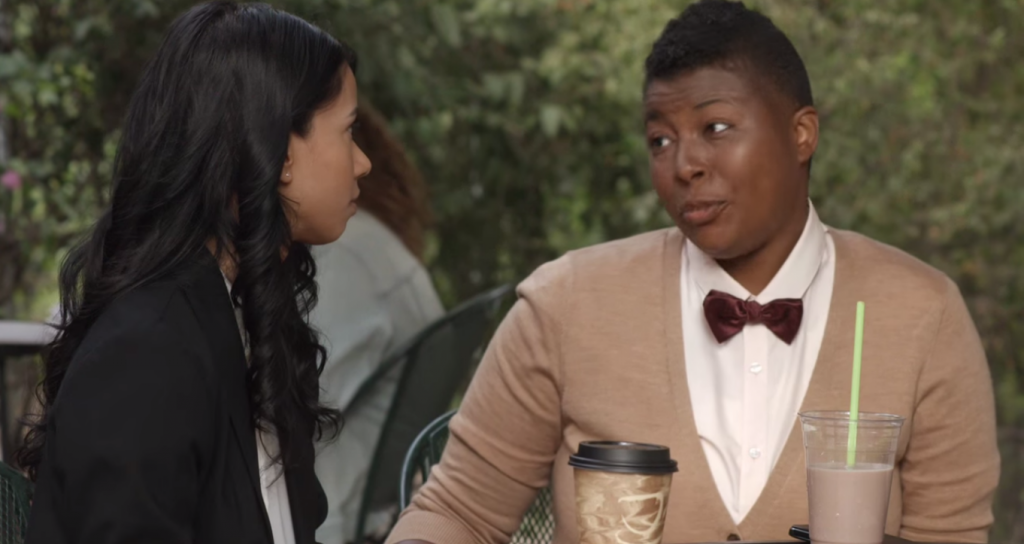 by Kesiena Boom
It's not exactly news that the media we consume is not centered around Black women. If Shonda Rhimes didn't exist it's hard to imagine where we would ever actually see wholly realized Black women characters on television. But one woman is doing her best to single handedly buck that trend.
Brittani Nichols, in her own words, is the "sought after triple minority" of Black, gay and female. But more than that she is a comedian, writer, and self proclaimed owner of the '
Best Twitter Feed To Never Be On A List Of Best Twitter Feeds
.' She is also the proud creator and writer of 'Words With Girls,' an L.A. set show centered around the antics of three twenty-something housemates who are trying and kind of failing to get their shit together. Nichols doesn't do things by halves and as part of her mission to ensure that we as Black women, and especially Black, queer women actually see ourselves reflected on screen, she is also the show's protagonist, playing misanthropic but kind hearted Aspen. Rounding up the threesome is fellow Black woman Corbin Reid as hilarious and vivacious Micky and Alex Sturman as slightly dopey but ever so cute Pace.
When asked why she's so dedicated to expanding representation Nichols replied, "I can't explain what it is that makes us want to see ourselves in the media. Maybe it's an underlying narcissism, maybe it's the only way we'll ever believe that we're not alone in our feelings and experiences, maybe it's just fucking cool...But I know right now there are a lot of people that don't feel like they see themselves anywhere and there is way too much television for that to be our shared reality. I think everyone deserves to see themselves..."
Nichols moved to L.A. after graduating from Yale and promptly set about writing the web series version of Words With Girls. The
first episode
'Semi', starring Lauren Neal alongside Nichols premiered on Autostraddle.com, the world's largest independently owned queer and feminist website for women. After gaining rave reviews and eager cries for more, Nichols realized she was onto something, set up a Kickstarter and raised the funds to shoot six more episodes.The overwhelming positive reaction made Nichols realise she had created a winner and she decided to pen a full length pilot. The stars aligned and Issa Rae, creator and star of immensely successful web series "The Misadventures of Awkward Black Girl," picked up the pilot for her new initiative
Color Creative TV
which "...aims to increase opportunities for women and minority TV writers to showcase and sell their work, both inside and outside the existing studio system." Nichols has nothing but praise for Rae's project and emphasised how much autonomy and creative control she was given to bring her vision to life. It is so heartening to see Black women collaborating to bring us independent and true to life reflections without the input of the ever present white male gaze that shapes so much of mainstream content featuring Black women as afterthoughts and punchlines.
The show's director, Tessa Blake, was blown away by the script when it landed in her in inbox. "So much of comedy is terrible but [Words With Girls is] witty, sharp, truly funny and well observed...[and] gets you in your gut."
You can watch the pilot below and add your support to this truly needed venture.
---
Kimberly Foster is the founder and editor of For Harriet. Email or
Follow @KimberlyNFoster