by Ariel C. Williams
In a society hellbent on discounting the importance of Black women's voices and stories, it's imperative for us to retreat in an environment where we're celebrated and encouraged to be our best. When finding local spaces that are devoid of harsh judgements and criticism is difficult, knowing which parts of the Internet are dedicated to enhancing our experience is critical. With the rise of feminist content and forums comes prolific Black women writers who actively create online content that can make any woman proud. From speaking on issues of race, feminism, music, parenting, and entrepreneurship, we're highlighting seven Black women writers to follow in 2015.
Kirsten West Savali
Like the modern day female version of Malcolm X, Kirsten West Savali reiterates in a recent piece, "'
I Go To UVA', Martese Johnson's Cry of Millennial Disbelief
," that we should become more intolerant with racism instead of being tolerant about race:
Despite the American pie shoveled down the throats of African Americans, its sweetness often disguising the poison, this country is not a black-and-white meritocracy. If we work hard, dress well and speak correctly by white American standards, we still will not be safe from being assaulted by thugs with badges; nor will our success be assured. No, for many in black America, the world is instead red and gray—our blood spilled on dirty pavements across this country and splashed in mainstream media as if our lives, our deaths and our pain were a National Geographic special.
With every piece being better than the last, Kirsten is a reader's dream and what every aspiring writer wants to be. She is a cultural critic and senior writer for The Root, where she explores the intersections of race, gender, politics, and pop culture. Follow her on
Twitter
.
Denene Millner
Lifetime's
With This Ring
was all the rage this year as Black women celebrated the film's accuracy and comedy on social media. But what really made this movie epic was the fact that the story began as a published book called
The Vow
written by Denene Millner,
Angela Burt-Murray
, and
Mitzi Miller.
A book-to-movie deal is nothing short of spectacular and the feat allowed for Millennials to learn more about Denene Millner, who's an author, writer, TV personality, and founder of the Black parenting blog
MyBrownBaby
.
In her a recent piece,
Parenting Through White Privilege: Mom Attacks Meddling Stranger Who Offers To "Help" Her With Her Crying Toddler
, Millner delves into the boldness of white privilege with a story about a mother of color's parenting being challenged (without permission) by a white woman:
Of course, I'm clear that it's never, ever okay to curse out or slap strangers in public or to behave in such a way in front of children. As good as those Miss Sophia Moments (a la The Color Purple) feel, I know that this kind of release could easily have serious consequences—particularly for women of color and our children. Truly, you put yourself in an incredibly vulnerable position, particularly when white folk and their judgment and itchy 911 fingers are involved. Our nation's foster care system is full of children who were put there because "good Samaritans" took it upon themselves to "intervene" in the parenting choices of Black and brown folks.
Aliya S. King
A true veteran in the game,
Aliya S. King
totes an impressive resume that any freelance writer would be proud of. Famous for her profiles on celebrities and in-depth storytelling, her work has appeared in Vibe, Upscale, Essence, Black Enterprise, and countless others. King has authored numerous best-selling books, including the biographical works
Keep the Faith
(2008) with R&B singer Faith Evans and
American Gangster
with the legendary Frank Lucas (2009). She has also penned two fiction titles
Platinum
(2010) and
Diamond Life
(2012). In addition to working on her third novel, readers can find King excelling in her new role as Entertainment Editor for EBONY Magazine.
With actress Kerry Washington as her muse, King's article, "
Kerry Washington: More Than Just Another Pretty Face in Hollywood
," is available in the April 2015 issue of EBONY. Here's a snippet:
THERE ARE MANY facets of Kerry Washington, some we know well, and some we don't know at all. Frankly, the actress can be a reporter's nightmare—candid to a point, tight-lipped to a fault. At the same time, she drops gems on life and love that are spoken from a place of true grace, wisdom, and self-awareness; the kind that she has clearly worked hard to achieve.
Britni Danielle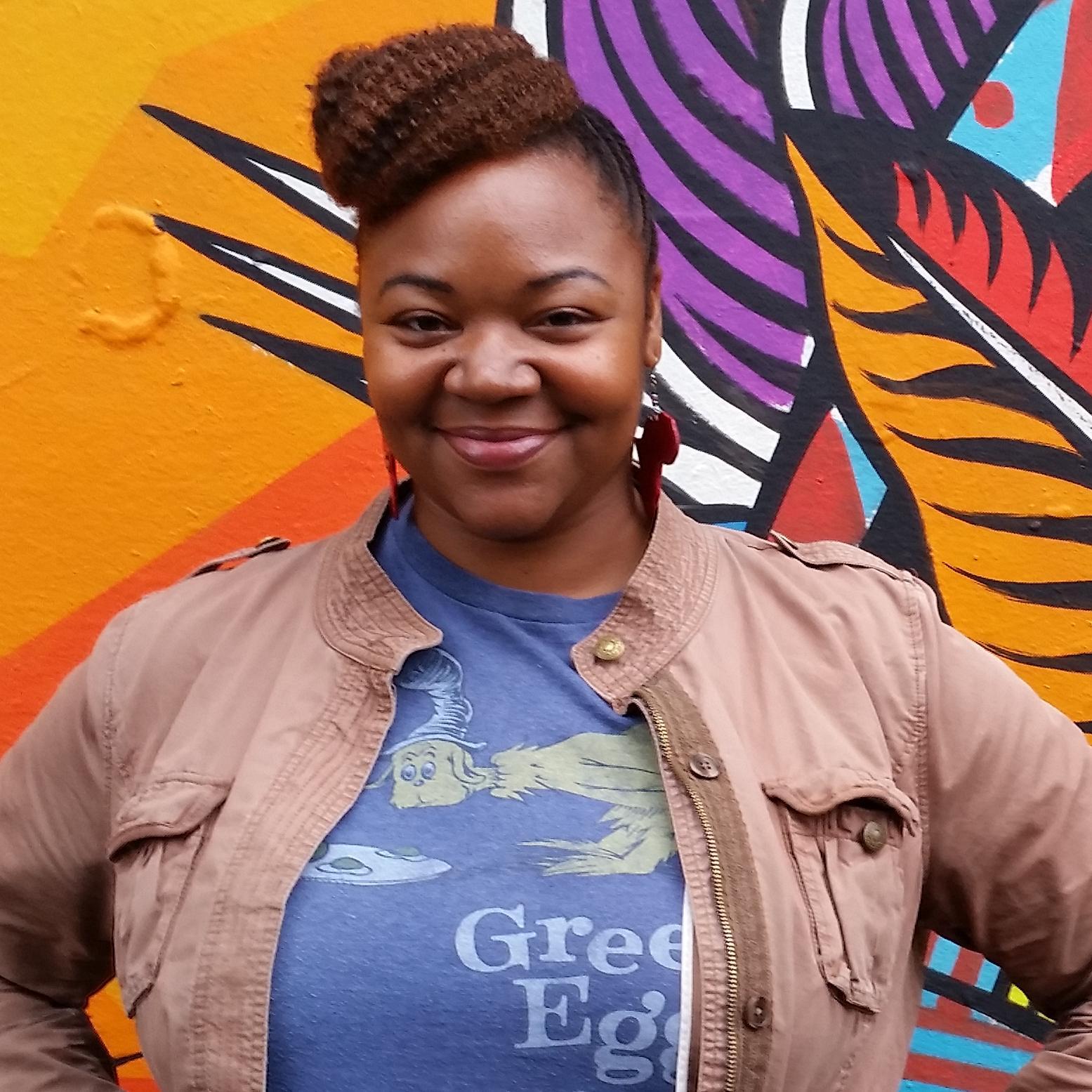 On her
self-titled blog
, Britni Danielle describes herself as a "journalist, editor, and novelist who is passionate about telling dope stories." If you follow her online, you know this is a humbled truth. Just four years ago, the dynamic storyteller and mom was a school teacher. In that short amount of time, she's amassed thousands of clips that span from Essence, The Grio, EBONY, and more. She's also created an online writing seminar called
The Write Pitch
and has authored several
books
. Britni Danielle is a true testament of "leaping out on faith," a life lesson that any aspiring writer could make their own.
She recently sat down with singer Kelly Rowland to gush over her life as a new mom for the April issue of Essence. Readers can get a sneak peak of the
interview online
or on newsstands nationwide.
Dr. Stacey Patton
One word can be used to describe Dr. Stacey Patton: brilliant. Her work is smart, calculated, and thought-provoking. In
Loving White People Won't Fix Racism
, the journalist spoke directly to the pacified views of racism shared by Common, Stephen A. Smith, and Starbucks CEO Howard Schultz:
The latest racial reality show, starring Common, Schultz, Smith, and Capehart, is dangerous. They are not only ignoring American's deadly and oppressive history, recasting White supremacy as a little bit of prejudice, but erasing the problematic present, flaunting their privilege of being insulated from the reality of most people's lives. By pretending that racism is *poof!* over and done with, by focusing on individual subjective actions rather than institutionalized objective structures, policies, laws, and practices, they are using the power and influence of their talent and platforms to work against themselves and their people.
What makes Dr. Patton stand out from the rest, though, is her story and dedication to child advocacy. On
SpareTheKids.com
, a site dedicated to providing parents who beat their children (and the children themselves) with alternatives to corporal punishment, the scholar writes that she's "an adoptee, child abuse survivor, and former foster child turned children's advocate, journalist, historian, and motivational speaker." Not only is her resume inspiring—she's written for The New York Times, Washington Post, Baltimore Sun, Newsday, and The Crisis Magazine—but so is her determination to thrive regardless of her childhood. Patton is also the author of
That Mean Old Yesterday: A Memoir
. She is currently a senior reporter for The Chronicle of Higher Education. Follow her on Twitter:
@DrStaceyPatton
.
Feminista Jones
The epitome of black feminism, Feminista Jones is a mental health social worker, writer, and activist that every woman needs in her life. The newly published author of the debut book,
Push the Button
, uses her
large Twitter following
to discuss issues related to womanhood, Blackness, sexuality and more. On a recent blog post, she spoke about how sexism affects women who choose to be both professionals and mothers:
And when a mother decides to work or pursue her education and trusts her child(ren)'s father to support her goals, she is accused of prioritizing work over motherhood in ways men are NEVER. Texas state senator Wendy Davis was highly scrutinized and condemned when it was revealed that she moved across country, away from her family, to obtain a law degree from Harvard when her daughters were younger. Her daughters spoke out about how proud they are of her decision and how her hard work inspires them, yet Davis was accused of abandoning her children even though 1) they were with their father and 2) she traveled back and forth to spend time with them.
We don't talk about men this way and we don't hold them to the same standards as fathers. This is horribly sexist and sends the wrong message to our children. If we're trying to change the landscape by eliminating wage gaps, protecting reproductive choice, and increasing women's representation in government and business, we have to begin at home.
Beyond her blog, her dedication to activism manifested with the popular hashtag #YouOKSis, an online movement challenging street harassment against women of color in 2014. The award-winning blogger writes online at
FeministaJones.com
and her work has also been featured in articles on
TIME.com
.
Jamilah Lemieux
Jamilah Lemieux is a Senior Digital Editor at EBONY magazine who focuses on content about race, sex, culture, and feminism. Her writing and her tweets are always spot-on analyses of what's going on in America, and she often expresses perfectly what so many of us have a hard time fully articulating, like her
most recent piece about the death of South Carolina's Walter Scott
, who was shot eight times as he ran away from police officer Michael Slager:
But it's deeper than misplaced sympathy. It's the pugnacious persistence of White supremacy and the inability of so many of our White countrymen to be consistently outraged at the extrajudicial murders of Black people. It's the fact that this shooting will be treated as an outlier by some, and even as justified by others. It's a nation of people who can hope the dogs are okay, but are less concerned with the children of a Black man cut down for no reason. A nation of people who demand calm when an officer is observed murdering an unarmed citizen, but give a pass to raucous college students who take to the streets with violence to celebrate a tournament win. A nation of people who feel safer because police officers can kill Black people with impunity.
The New York based writer is a proud Millennial who is known as a leading voice of Black Twitter, where she stood with founding blogger Mikki Kendal with the #SolidarityIsForWhiteWomen hashtag. The three-time award winning blogger has written for several publications such as Clutch, Jezebel, Essence, Black Enterprise, The Loop, and more. Last year, Lemieux was included in the roundup for The Root 100 as well as Fortune's List of Influential Women on Twitter. Follow her on
Twitter
.
Who are your favorite Black women writers? Tell us in the comments.
With a mission to help women thrive in life, love and goals, Ariel C. Williams is a writer, virtual consultant and author of go-to eBook The Girl Talk Chronicles: Advice on How to Manage Love, Lust & Situations. Chat with her online @ArielSaysNow or via her blog: www.arielsaysnow.com.