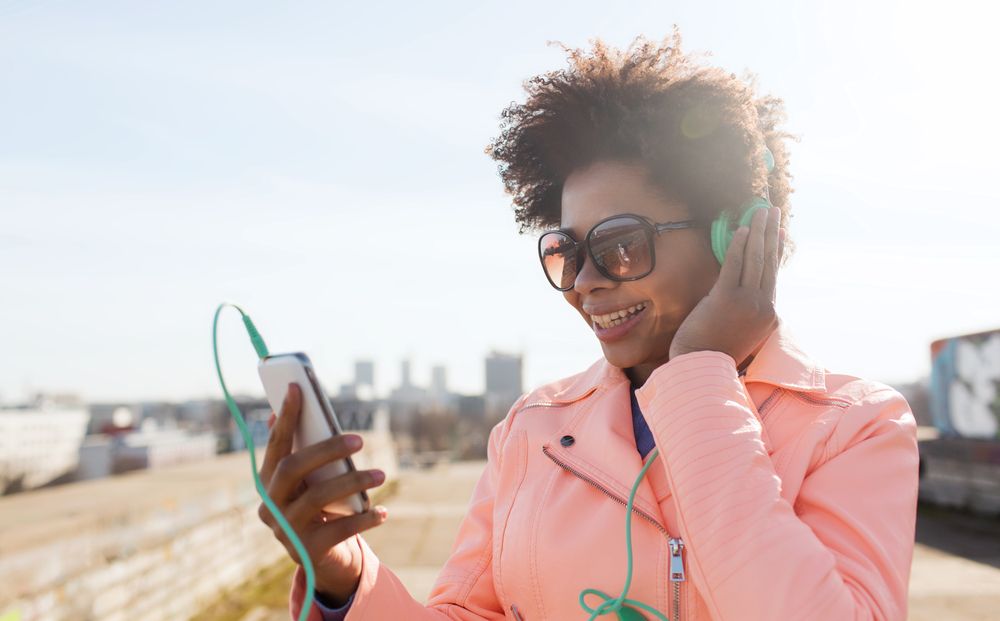 By Raisa Habersham
Have you ever been riding in your car or working out to your favorite playlist and your song comes on? Yep, you've been there; it's the one you have to listen to when it plays at a party or perhaps it's a quick pick me up. Whatever the case, here are a 20 songs that we simply cannot get enough of.
Kelis – "Caught Out There (I Hate You So Much Right Now)"
Who could forget the first girl to scream on a track? Kelis' anthemic break up song catapulted her into our hearts. The song, reminiscent of a brasher "Not Gon' Cry," made being angry OK and shows eccentricity in Black women is a must have!
Purchase: iTunes/Amazon
Alicia Keys – "You Don't Know My Name"
A throwback to the sixties and seventies soul sound, Alicia's hit takes us back to school crushes and in-class daydreams. The accompanying clever video made the song one not to forget.
Purchase: iTunes/Amazon
Queen Latifah – "UNITY"
Queen's opening words sum up the reason we've fallen in love with this song. It's the perfect way to call out the disrespect black women face daily. Not to mention, it reminds each of us that it is OK to speak up for yourself.
Purchase: iTunes/Amazon
TLC – "Creep"
"Creep" reminds the cheated that you can get your swerve on, too. Some, such as Ms. Lopes, may not find the scenario ideal, but the song is the perfect eye-for-an-eye.
Purchase: iTunes/Amazon
Whitney Houston – "Saving All My Love For You"
The Voice's spine tingling croon delivers the forlorn cry of a hurt lover. And no matter how bad the situation she sings of is, it's still a groove you sing to, marking many songs Nippy had us chirping to.
Purchase: iTunes/Amazon
Lauryn Hill – " Doo Wop (That Thing)"
Lauryn hasn't delivered another album quite as jarring as "The Miseducation of Lauryn Hill," but the classics released from it have held us over. Hill's "That Thing" still has us harmonizing like back in the day.
Purchase: iTunes/Amazon
Aretha Franklin – "Respect"
No one demands it like Aretha. The song is still the battle cry for demanding justice, appreciation or just outright respect. Aretha's voice over a lively beat was sure to have people rocking their heads for years to come.
Purchase: iTunes/Amazon
Anita Baker – "Sweet Love"
There's nothing like Anita Baker's voice. It's why "Sweet Love" was able to pull the listener into the lyrical love trance. Baker's celebration of her lover has made many revisit the song on Adult Contemporary R&B stations.
Purchase: iTunes/Amazon
Chaka Khan – "What Cha' Gonna Do For Me?"
The feel good vibe of Chaka's hit still has many grooving to it. The forlorn lyrics are masked by Chaka's mesmerizing vocals, which illustrate how sorry she truly is.
Purchase: iTunes/Amazon
Erykah Badu – "Tyrone"
This tell your man to get gon' anthem won't ever die as long as there are tired lies to be told. Erykah's "let me call you out real quick" tude and tune don't ever grow old at concerts and have reminded us why concerts with her are special thing to behold.
Purchase: iTunes/Amazon
Janet Jackson – "That's The Way Love Goes"
Ms. Jackson's new music is something to muse about, but her classics will always be loved. The smooth groove to TTWLG is a timid hint to cuddle with your boo. The sexy crooning and laid back vibe have ensured its lasting reign.
Purchase: iTunes/Amazon
Janelle Monáe – "Q.U.E.E.N."
Janelle Monáe is a new fave for many, but she's already made her mark on Black feminism and artistry. What better way to solidify that than with "Q.U.E.E.N." featuring the incomparable Erykah Badu. Monáe challenges white dominant systems. The song provides the new anthem for Black womanhood no doubt to be played for years to come.
Purchase: iTunes/Amazon
Aaliyah – "One in A Million"
That hair. Those shades. This song. Aaliyah maybe gone, but her spirit is encapsulated in this bop. Oozing sexiness with and without the video, Aaliyah takes the words "I have a crush" to a different level, having a lasting impact on musical icons alike. *waves to Drake*
Sade – "No Ordinary Love"
The forever young songstress has provided the soundtrack to many lives, but this song takes the cake. Sade's soothing tone takes you through the whirlwind you went through with your ex-lover. The 56-going-on-20 singer's coos resonate with those who've loved wholeheartedly and lost.
Purchase: iTunes/Amazon
Big Maybelle – "Candy"
While much isn't known about Big Maybelle, "Candy" serves as an ode to your honey, the reminder that they are sweet and bend at your every need. Maybelle's buttery sound will make you want more.
Purchase: iTunes/Amazon
Etta James – "At Last"
The immortal Black wedding song, Etta's "At Last" remains a classic. Her textured voice with the backing of an orchestra makes you fall in love instantly. With the spirit of love found at last, this song can play on repeat for any newfound love.
Purchase: iTunes/Amazon
Lil Kim featuring Angie Martinez, Lisa "Left Eye" Lopez, Missy and Da Brat – "Not Tonight"
The Kool and The Gang sample plus the lyrics of five diva emcees make for a girls' night out soundtrack. The song not only shows Black female solidarity but also reminds people that we have fun while doing it. And we're still banging this in our whips.
Purchase: iTunes/Amazon
Salt'N'Pepa – "Push It"
This song was laughed out of the boardroom. This song was also a No. 1 hit for the rapping girl group who've paved the way for many to follow. "Push It" serves as the precursor to the raunchy demands for damn. good. sex. And it's still as fresh today as it was in 1987.
Purchase: iTunes/Amazon
Tina Turner – "Proud Mary"
From the steps, the wigs and booming vocals, Tina not only makes Mary proud but our spirits as well. The hollering high stepper's song moves you down to your bones and still puts modern day singers to shame. Not to mention she's still got the moves.
Purchase: iTunes/Amazon
Minnie Ripperton "Lovin' You"
The infectious vocals of Minnie are enough to sooth anyone. "Loving You" brings out the love affair we have with our significant others on a sunny, summer's afternoon.
Purchase: iTunes/Amazon
There are many songs that can be added to the list, but the timelessness in these are much to be enjoyed. What are some of the songs you can't get enough of?
Photo:
Jason Kempin
Raisa Habersham is an Atlanta-based freelancer who has written for USA Today College and AllDigitocracy.com. She is also News and Features Editor for VOX Teen Communications where she develops teens' journalistic skills. You can follow her on Twitter and Instagram at the handle @newsworthy17.