It was a
good time to be a Black actress
at the 67th Annual Emmy Awards. Viola Davis (
How to Get Away with Murder)
, Uzo Aduba (
Orange is the New Black)
, and Regina King (
American Crime)
took home the coveted statues.
The sea of Black talent made the Emmys the most diverse major award acting award show we've seen in a minute. As inspiring as the wins were, we loved see the Black women share the love for each other even more.
Taraji P. Henson was nominated for Outstanding Actress in a Drama and led the Black Girl Cheer Squad. She couldn't contain her excitement as Regina King took the stage to accept her award.
Phil McCarten/Invision for the Television Academy/AP Images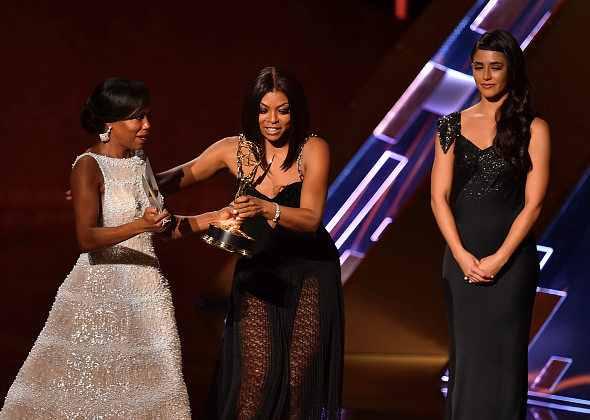 Kevin Winter/Getty Images Entertainment
Regina took a moment at the end of her speech to thank the women in her life.
Viola Davis won best lead actress in a drama series, and before she could even begin her thanks, Taraji P. Henson was on her feet.
Viola Davis delivered a powerful indictment of racism within the entertainment industry as she accepted her award, and she made sure to hold space for the women who came before her and stand beside her.
She began her speech with a quote from Harriet Tubman.
In my mind, I see a line. And over that line, I see green fields, and lovely flowers, and beautiful white women with their arms stretched out to me over that line. But, I can't seem to get there no how. I can't seem to get over that line.
She went on to advocate for the women who are talented and overlooked.
Kerry Washington cried as she looked on.
Viola thanked many of today's leading working actresses for struggling alongside her.
To the Taraji P. Hensons, the Kerry Washingtons, the Halle Berrys, the Nicole Beharies, the Meagan Goods, to Gabrielle Union, thank you for taking us over that line.
Viola didn't just win for herself. Viola got up there and thanked other black women. And rallied for other WOC. That's powerful.

— Jen (@jdwattley) September 21, 2015
In the press room, Regina made sure to commend Viola on her historic win.
— Vlada Gelman (@VladaGelman) September 21, 2015
All the Black Girl Excellence filled our hearts with joy. What a time to be alive!