by Bee Quammie @Bee Quammie
The pairing of reggae and dancehall artists with American pop/hip hop/R&B artists isn't new. Recently we've seen Kanye working with Assassin, Beyonce teaming up with Mr. Vegas, and even Toni Braxton has a dope Christmas song with Shaggy. Bounty Killer was an honourary member of the Wu-Tang Clan, and Junior Reid was the reason The Game's "One Blood" and Mims' "This Is Why I'm Hot" popped. The avenues for introducing dancehall to new audiences have been paved through these pairings, but consistently missing from the equation are the women of the genre.
When Rihanna's "Work" single dropped, I spent hours replaying the track - letting the melody, beat, and lyrics sink in. I didn't know if I liked or disliked it, but what I did know was that a remix with Lady Saw, Spice, or even Patra would be fire. Will we ever get the pleasure of hearing what a gyal power "Work" remix would sound like with one of these women on the mic? I can't call it. There are a multitude of women pushing the dancehall scene forward, so even if we don't get the "Work" remix of my dreams, allow me to introduce you to a few of the ladies who run tings.
Sister Nancy
Scott Dudelson/Getty
As the first woman to perform at Jamaica's Reggae Sunsplash festival, and the first woman Jamaican DJ to tour internationally
,
Sister Nancy (born Nancy Russell in 1962) paved the way for future women artists. One of 15 children, Sister Nancy watched as her brother rose to fame under the moniker Brigadier Jerry before she started performing on the dancehall scene herself.
Her classic track "Bam Bam"
spoke to her experience as a woman about her business, and was most recently sampled by Kanye West his The Life Of Pablo album.
Shelly Thunder
Janette Beckman/Getty
Michelle Harrison-Timol, also known as Shelly Thunder,
had a #1 hit on the U.S. Reggae charts with "Shock Mi A Shock" in 1985
. She signed a deal with Island Records after
writing her hit song "Kuff"
in the late 80s, and was elevated to the levels of Shabba Ranks and Super Cat, two of the most popular dancehall artists at the time. Her album Fresh Out The Pack spawned a number of hit singles,
including the colourful video for "Break Up"
(peep the young Doug E. Fresh as her love interest!) with the infectious line "if yuh walk outta mi house this time, bwoy nuh come back." Shelly Thunder eventually turned her life to her faith, and is now a gospel reggae artist.
Patra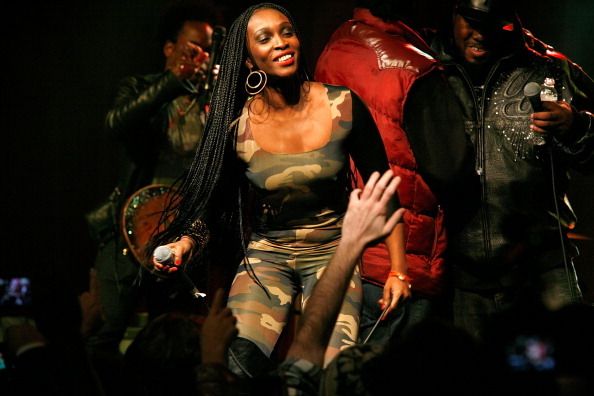 Andy Kropa/Getty
In the early 90s, a box-braided dancehall goddess appeared on the scene, enjoying a level of mainstream exposure that was unheard of by most other dancehall artists of the time. Patra was her name, and singing about power, pleasure, and satisfaction was her game.
Her debut album "Queen of the Pack" exploded on the charts in 1993
with
Worker Man (a song where Patra details exactly what she wants out of her lover) as one of her leading hit singles
, and her blend of lyricism combined with hot videos struck gold for audiences within and outside of the Caribbean. Patra's reverence of her sensuality and Black woman pride resonated with her female following then, and still has an impact on her fans of today.
Tanya Stephens
Johnny Nunez/Getty
Tanya Stephens first hit the dancehall scene in the late 90's, with bold and sexually assertive songs like
"Big Ninja Bike,"
"Goggle,"
and
"Yuh Nuh Ready."
Stephens used her voice to declare her own sexual prowess and personal definition of sensual satisfaction, flipping the male-dominated genre on its head. Her versatility shines through in songs like
"It's A Pity"
and
"These Streets"
- two songs that are tender, lamenting, and vulnerable.
In a 2006 interview, Stephens discussed her growth as an artist
, using her music as a way to continue pushing themes of women's sexual empowerment, but also fighting back against the genre's rampant homophobia - most notably in her song
"Do You Still Care."
Stephens was a key influence on artists around the world like the
UK's Stush, known as the First Lady of British Dancehall.
Ce'Cile
With family friends like Michael "Ibo" Cooper, a member of reggae supergroup Third World, the musical seed planted in Ce'Cile had lots of water to help it grow. After working as a backup singer for various reggae acts, she decided to step into the spotlight and take a turn towards the dancehall stream. Her first big hit was
"Can You Do The Work"
with Sean Paul, and her single
"Changez"
had Jamaica on fire when she satirically called out men in the industry in ways they were known to do to women.
Ce'cile has a healthy international fan base, with key audiences in Germany and Japan
.
Spice
After excelling in school and settling on a future career in chartered accounting
, Spice decided to follow her passion and jump headfirst into the dancehall industry. She earned a spot on the Sting stage in 2000 (an annual Jamaican dancehall show) and had the crowd - and more established artists - hanging on to her every word. From there, she made the necessary connections to find her footing in the industry, and has grown into one of the biggest artists out. Raw singles like
"So Mi Like It"
,
"Bend Ova"
,
"Fight Ova Man"
and
"Needle Eye"
showcase her brash, braggadocious style, and her fans love it.
J Capri
Born Jordan Phillips, J Capri was one of dancehall's rising stars. At just the age of 23, she was living her dream of being an entertainer, launching hit single after hit single (like
"Whine and Cotch,"
"Reverse It,"
and collaborations with
Konshens
and
Vybz Kartel
), and finding international success. J Capri was bringing a level of excitement back to dancehall, and was becoming one of the most sought-after artists in the game.
Sadly, her powerful voice was silenced in December 2015, when she passed away after a car accident in Kingston, Jamaica
. It's sad to think of what could have been for J Capri, but the music she left behind will have us winin' our waistlines for years to come.
Lady Saw
Jon Ricard/Getty
Born Marion Hall, Lady Saw is one of the most impactful women in dancehall. Lady Saw carried the crown for being the queen of slackness (explicit lyrical content) and went toe to toe with men in the industry who erroneously thought a woman couldn't match their sexually charged lyrics. She rallied against sexism in the industry, fighting for her right to equal pay and against industry double-standards that banned her performances due to her lyrics while supporting men who were just as raw.
"It's Raining"
is one of her most well-known songs, discussing her ideas of sexual satisfaction.
"Man Is The Least (Of Mi Problems)"
showcased her disdain for fussing over any man.
"Heels On"
delivers her signature sexy messaging over a smooth track - more of a "let's make love" vibe than her "hard wuk" style.
After J Capri's untimely death in 2015, the artist formerly known as Lady Saw rededicated her life to Christianity
and declared she had given up her dancehall career for one of gospel music and serving her community. Fans wonder if she'll return to dancehall, but she has most definitely left her mark on the industry.