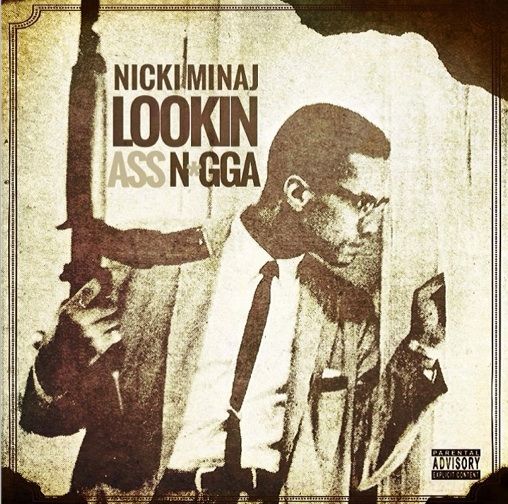 Last week, Nicki Minaj
released an image
featuring an iconic photo of Malcolm X staring out of a window with a semi-automatic weapon to accompany the release of her new buzz single "Looking Ass Nigga." The photo immediately drummed up controversy, and Nicki offered a half-hearted apology to those she offended.
Malcolm X's heirs clearly were not amused by Nicki's use of the photo. His daughter Ilyasah Shabazz and the Shabazz family attorney L. Londell McMillan released statements on Friday that categorically rebuke Nicki's altered image.

In an exclusive statement to The Associated Press on Friday, Malcolm X's daughter, Ilyasah Shabazz, said Minaj's use of the picture "in no way is endorsed by our family."

"Ms. Minaj's artwork for her single does not depict the truth of Malcolm X's legacy," Shabazz's statement said.

Minaj apologized Thursday. She pulled the artwork after she was criticized on social media platforms for using the photo for the cover of her new male-bashing song, "Lookin (Expletive) (Expletive)." The title uses the N-word.

Minaj said the single cover was "never the official artwork."

Mark Roesler, CEO of CMG Worldwide — which handles the licensing and merchandizing issues for the Malcolm X estate — called Minaj's use of the photo "dehumanizing."

"This is a family photo that was taken out of context in a totally inaccurate and tasteless way," said his statement on behalf of the family.

L. Londell McMillan, the attorney for the Malcolm X estate and the black leader's daughters — and estate administrators — Ilyasah and Malaak Shabazz, said in a statement Friday that those using the famous photo of Malcolm X need to remove it immediately.
"Failure to do so within the next 24 hours shall result in legal action," said McMillian, who is also the lawyer for Malcolm X's daughters, Attallah, Qubilah and Gamilah Shabazz. "The initial act and subsequent acts of distribution were improper and ill-advised. Any disparagement, infringement or disrespect of Malcolm X, and his name, image, likeness and proprietary rights will not be tolerated."
Ilyahsah Shabazz also offered some thoughts about the consequences of the misuse.
Situations like the recent portrayal of our father on the album cover for Ms. Minaj's new single only highlight the fact that we as a society need to take more responsibility for what we're teaching our children," her statement said. "It is our family's hope that the true legacy and context of Malcolm X's life continues to be shared with people from all walks of life in a positive manner that helps promote the goals and ideals for which Malcolm X so passionately advocated.
[via
Huffington Post
]
---